Troika scanning microscope is one quality control device for all key printing supplies. Improve productivity, efficiency and print quality.
Troika AniCAM 3D microscope
Troika AniCAM 3D scanning microscope has been designed to help the print industry control the quality of key components in the industrial printing process.
Troika AniCAM 3D scanning microscope allows in-depth inspection of:
printing plates:

photopolymer flexo and letterpress / dry offset
printing sleeves
elastomer

wear and quality of anilox rolls
CtP plates and CtF negatives
gravure cylinders
Each Troika scanning microscope is integrated with custom software to provide a complete system for inspecting flexo plates and sleeves, anilox rolls and gravure cylinders. Troika AniCAM 3D scanning microscope and quality control management system can also be used in the coating, embossing, and engraving industry. The solution has been developed to promote operational efficiency, consistent quality and continuous improvement at industrial printing facilities.
Troika quality control systems:
promote printing quality and consistency
reduce waste in the press shop
increase press productivity
reduce set-up time
improve client satisfaction
improve efficiency and profitability
We also offer portable digital microscopes by ViTiny. We are a global distributor of photopolymer flexographic plates and letterpress plates by Toyobo.
Print Systems provides full support with the choice, implementation, and maintenance of packaging printing technology.
Support 360o
Flexo printing technology audit
The printing technology audit is a free service provided by our experts in...
More
---
Personnel training
Personnel training is a key element in building competent teams. An...
More
---
Dedicated flexo advisor
Dedicated flexo advisor – technical support by Print Systems company...
More
---
From our knowledge center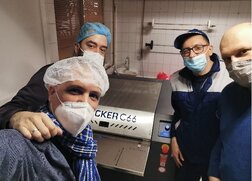 When time, costs and quality matter.
The latest installation of the QUICKER C66 post-print plate washer took place in Serbia. Our customer the SPEKTAR Company...
More
New water-based prepress room – quality of paper elegance
Duni is the world's leading supplier in the field of tableware products. The history of the company began in 1949 with the...
More