QUALITY WITHOUT COMPROMISE!
World-class flexographic plates by TOYOBO that allow excellent ink transfer and eliminate harmful solvents!
Photopolymer flexo plates
Flexographic plates Cosmolight® are new-generation water-wash plates. Excellent ink transfer, high resolution of printouts, small dot size, perfect quality of EAN codes, and dot reproduction close to 1:1 are selected advantages of the polymer plate by the Japanese brand TOYOBO.
Photopolymer flexo plates can be used with water-based ink, solvent-based ink, and UV ink. Plate-making time for TOYOBO plates is reduced to 45 minutes.
Cosmolight® is the best solution available in the market for flexo, water-wash, and ecological plates:
Wash out with plain tap water with a small amount of mild detergent QUICKER,
No need to use hazardous hydrocarbons and solvents,
Excellent ozone resistance,
Excellent ink transfer,
Excellent resistance to solvent-based ink (type NS, NH, QS, and QH),
A closed washout system allows repeated use.
We also offer letterpress plates by Toyobo, CtP machines, and plate-making machines.
Print Systems provides full support with the choice, implementation, and maintenance of technology.
The process of washing and drying the flexo plate
Request a quote
Photopolymer flexo plates
Choose the parameters to view the range of plates.
Support 360o
Flexo printing technology audit
The printing technology audit is a free service provided by our experts in...
More
---
Consulting
Our client's success comes from the smart application of technology to...
More
---
Useful calculators for flexo prepress
Useful calculators at daily work: Ink consumption calculator Teeth number...
More
---
From our knowledge center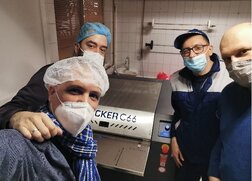 When time, costs and quality matter.
The latest installation of the QUICKER C66 post-print plate washer took place in Serbia. Our customer the SPEKTAR Company...
More
New water-based prepress room – quality of paper elegance
Duni is the world's leading supplier in the field of tableware products. The history of the company began in 1949 with the...
More