Precise, quick and effective cleaning
Longer plate and anilox life, better print quality and lower costs thanks to our unique washout and cleaning formulas.
Chemical agents
Our photopolymer printing plate washout and cleaning formulas have been designed by flexography experts to deliver excellent results and meaningfully extend the life of the plates.
They can be used in manual plate washing as well as in automated plate washing machines. QUICKER plate washing machines are effective in washing water and solvent-based and UV inks.
Care has been taken to minimize the impact of the plate cleaning chemicals on the environment and on the parts of the printing machine.
We also offer machines for anilox and printing sleeve cleaning and printing plate washing machines. We are a global distributor of Toyobo flexo plates and letterpress plates.
QUICKER Wash KONCENTRA
FLEXO-WATER PRINTING MOLDS WASHING-OUT AGENT
Key advantages:
shorter plate making time (down to 37 from 48 minutes)
possibility to achieve stable dots in printing below 20 microns
economical
improves ink transfer
Available container: 10L
Quicker Wash PLUS
FLUID FOR WASHING-OUT OF FLEXO-WATER PRINTING MOLDS PRODUCT FOR PROFESSIONAL USE.
Quicker Wash PRO
Powder for bath preparation. It has a softening
effect in rinsing and washing solutions.
Volume: 3kg
Recommended solution: 150g/ bath
Quicker Cleaner SOLVENT
Post-print plate cleaning liquid. For cleaning of plates and machine parts contaminated with solvent inks. Manual and machine washing.
Volume: 20L
.
Quicker Anilox ULTRA
Anilox cleaning liquid, for use in ultrasonic washers.
Volume: 20L
Quicker Anilox NEUTRAL
Anilox cleaning liquid, for use in ultrasonic washers. It does not react with light metals.
Volume: 20L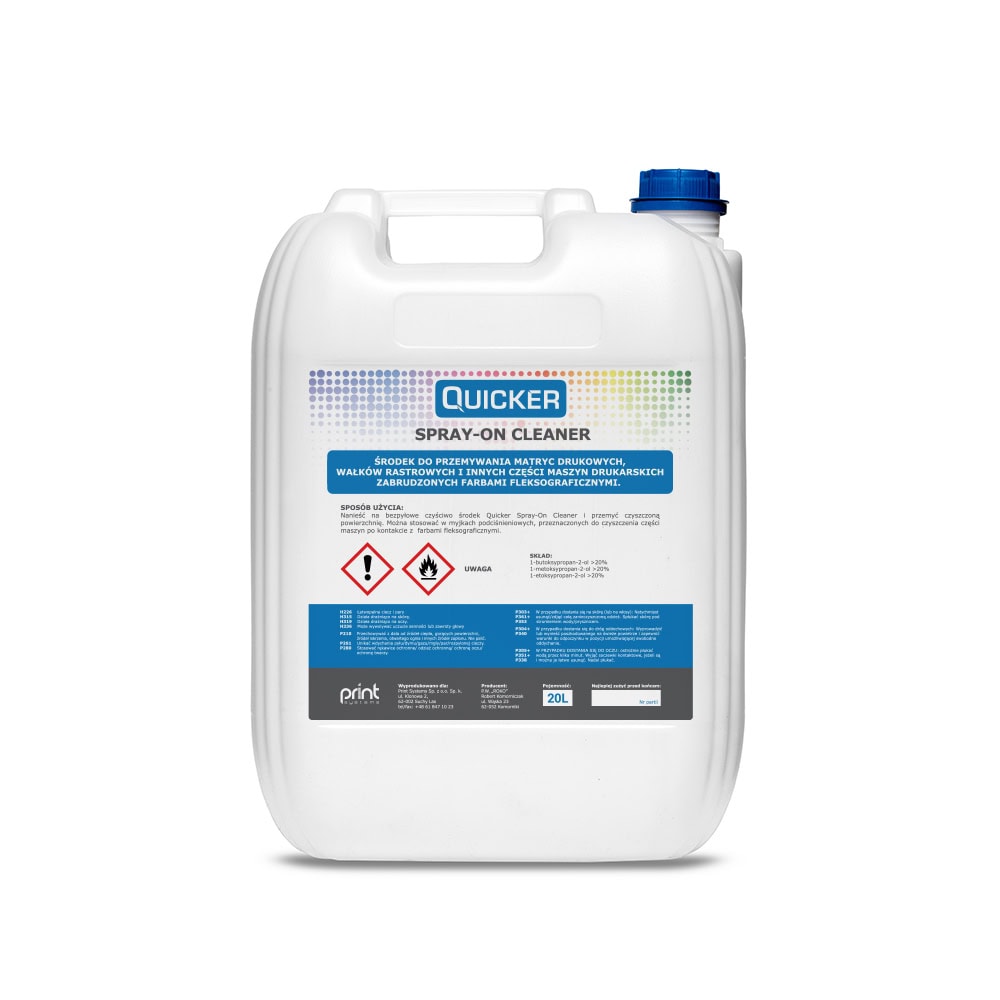 Quicker Spray-On Cleaner 20l
Agent for rinsing printing plates, anilox rollers and other press parts stained with flexographic inks.
Volume: 20L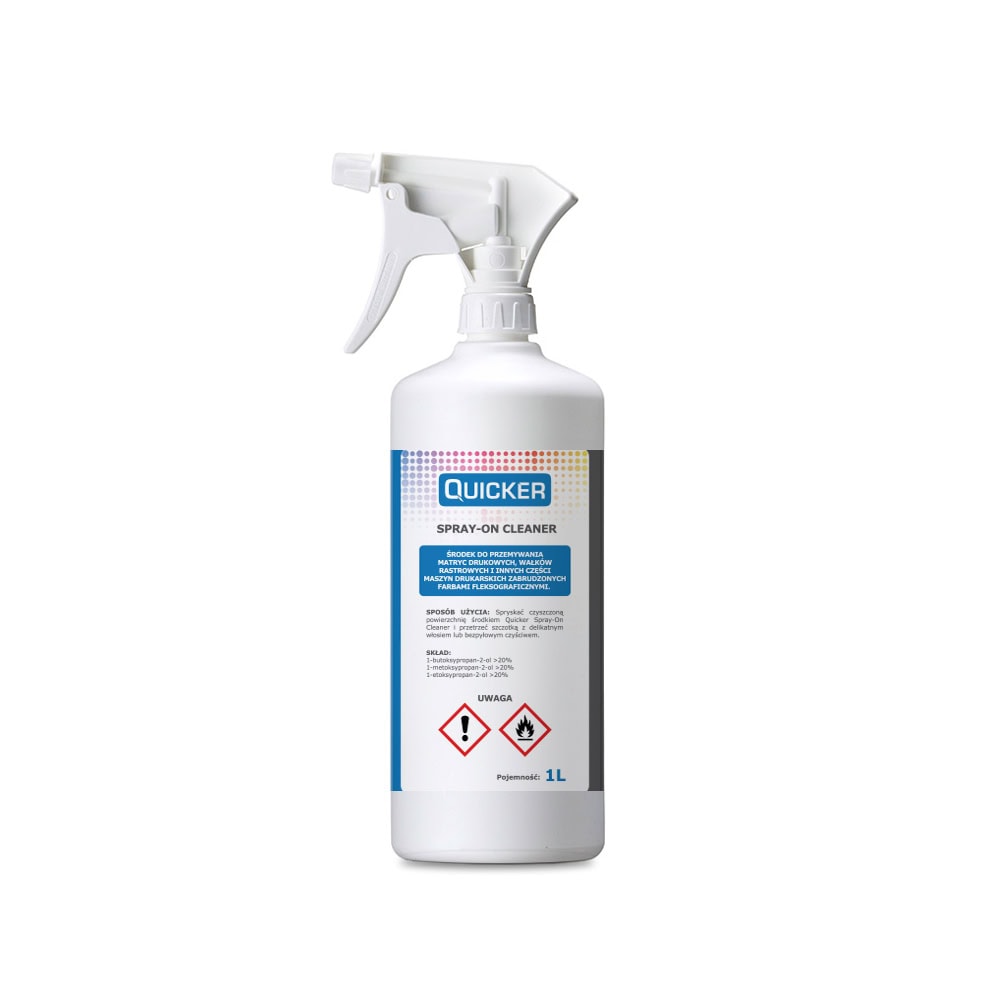 Quicker Spray-On Cleaner  1l
Liquid for rinsing printing plates during printing.
Volume: 1 L container with an atomizer
QUICKER Cleaner UV

Professional cleaning formula designed for cleaning inks and UV varnishes from plates, both manually and in plate cleaning machines.
Key advantages:
no odor
easy removal of dried ink deposits
no deposit after washing
leaves no greasy stains
easy evaporation
protection of polymer surface until the next usage.
Available containers: 10L and 25L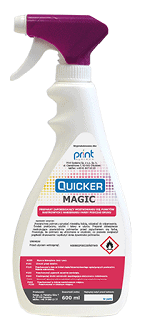 QUICKER Magic
Silicon-based cleaning formula which:
prevents ink intake by plates during print runs
facilitates washing during print runs
prevents the printing plate from drying
extends the life of the plate
Available container: 600 ml (with the feeder)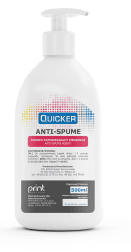 Quicker ANTI-SPUME
Anti spume agent.
Volume: 300ml
Recommended solution: 3ml/bath
Quicker Absorb Gel
Agent for gelling the solution formed
after washing out water-based plates, flexographic
plates.
Volume: 10kg
Recommended solution:
1-3% / per weight of solution
We recommend:
QUICKER C post-print plate cleaner
The fully automated after printing plate washing system clean flexographic and letterpress plates in a very gentle way.
Ultrasonic anilox roll cleaning machine
Individually designed to deep clean anilox rolls, sleeves or gravure cylinders of all sizes, they will help you reduce set-up times, minimize press downtime, increase the lifetime of the rolls and optimize printing quality.
Request a quote
From our knowledge center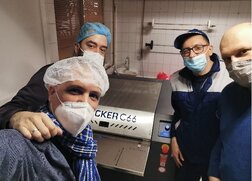 When time, costs and quality matter.
The latest installation of the QUICKER C66 post-print plate washer took place in Serbia. Our customer the SPEKTAR Company...
More
New water-based prepress room – quality of paper elegance
Duni is the world's leading supplier in the field of tableware products. The history of the company began in 1949 with the...
More