CTP plate making machine automate the plate setting workflow. Do you want to reduce the costs of prepress by up to 50%? Invest in your own CtP prepress.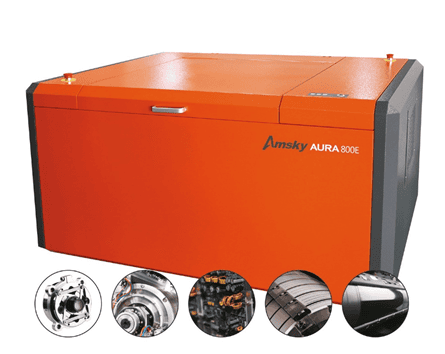 CTP plate making machine
We offer CtP machines by Amsky, the producer of fully automated, easy-to-use, ultra-modern digital plate making machines and systems for prepress.
Amsky Aura CTP plate making machine use dynamic autofocus and drum auto-balancing to ensure the highest quality and stability of flexo and typo plate making. Their newly designed vacuum system for the external drum keeps the photopolymer plate on its surface with no need for mounting tape outside the plate area.
Amsky Aura CtP machines come with the package of prepress software.
Important: low laser replacement costs!
Amsky Aura CtP digital plate making system offers the following functions: 
predefining plates,
arrangement and imposition of 1 Bit TIFF files,
storing data about every finished printing job,
sending jobs to Aura,
job queue management,
monitoring progress status of every job,
archiving.
Amsky Aura CtP machines and digital plate making systems offer multiple opportunities at a very competitive price. High quality, great functionality of the CtP system and excellent technological parameters are sure to meet your expectations.
We also offer flexo photopolymer plates and letterpress plates by Toyobo as well as plate making machines.
Print Systems provides full support with the choice, implementation, and maintenance of technology.
From our knowledge center
New water-based prepress room – quality of paper elegance
Duni is the world's leading supplier in the field of tableware products. The history of the company began in 1949 with the...
More
ROLFLEX bets on higher efficiency, independence and development.
Comprehensive investment in an in-house water-based prepress studio – case study. About the company ROLFLEX is a family...
More